La Nuit by Sofitel
Friday 1st Feb @ Sofitel Grand Ducal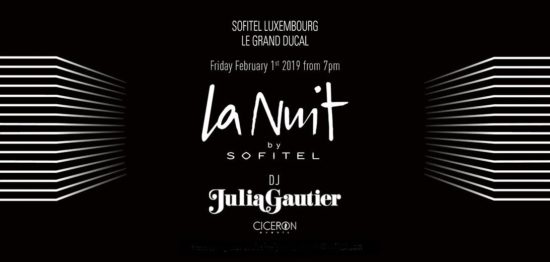 Get into the Friday Groove with Sofitel's La Nuit organized by our friends from Ciceron Events. Our Fox really enjoys these events as La Nuit is one of the most stimulating nights out at this moment in time in the capital. The event itself is marketed as fairly glamorous with a 'strict fashion dress code' but in this case here 'less is more' because La Nuit is popular and it can get really warm in the SkyBar. In the words of our Rapper Boy Nelly 'It's getting hot in here', literally (due to the limited power of the airconditioning).  This puts the ladies perhaps a bit at an advantage.
What we really appreciate is the international flair and positive vibes of 'La Nuit'where you have an amazing view over the historic old city while enjoying some chilled and refreshing cocktail.
We also enjoy the international DJ at La Nuit and in fact this time DJ Julia Gautier from Paris is spinning the decks. Additionally finger food is also being served from 7-9pm which is a good way to start the evening if you come straight over from work.
They say that….
…it is advisable to show up early as at times the popularity of the event takes its toll and you might end up waiting or get disappointed altogether but, in this case it is actually true.
Do make sure that you register in advance ciceronevents@gmail.com
Where: Sofitel Grand Ducale 40, blvd d'Avranches
When: This upcoming Fridy 1st Feb
What: Blow off some steam
Starts: 7pm