Buergbrennen 2016
Some things are burning brightly in this ancient pagan ritual - Sun14th Feb after sunset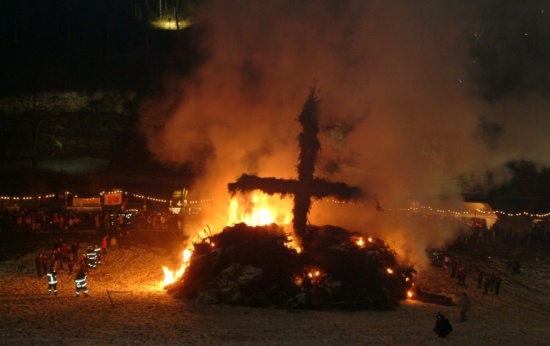 On the first Sunday after Carnival, towns all over the Grand Duchy celebrate the annual event of 'Buergsonndeg' where large torches are lit across the country to chase away the winter.
Although the burning crosses can be bewildering at first, thousands of people attend this ancient traditional festival every year and it is jolly good fun – if you ask us! The 'Buergen' are set alight on hilltops across the country and the blaze of the raging fire can be seen for miles at nighttime. They are huge stakes with a large cross in the middle, made out of wood, straw and pitch often constructed by the local young people together with the firefighters who frequently also organize a torch-lit procession from the town to the 'Buerg'.
Its origins
Since ancient times, the 'Buergbrennen' tradition has been observed around the time of the spring equinox and is a very old pagan custom. The blaze symbolises the rebirth of spring and the end of winter, the triumph of warmth over the cold and of light over darkness. Some claim the blaze is a symbolic reminder of the time when witches were burnt at the stake. Although 'Buerg' in Luxembourgian means 'castle' linguists tell us that the word itself has in fact nothing to do with a castle. Its etymology comes from the Latin verb 'burere', meaning 'to burn'.

What happens?
The event usually starts in the early evening with a torchlight procession and ends with the lighting of the fire as darkness falls. Grilled food and traditional dishes including 'Ierzebulli' (pea soup), and 'Glühwäin' (mulled wine) are served among others. Often people also sing songs and the sight of the burning crosses against the backdrop of the night makes an impressive sight. At the Fox we highly recommend it as it is a great way to get to know local traditions and folklore over a glass of mulled wine watching the fire consume 'winter' and hasten the arrival of spring. What's not to like?
Where can I see this event in the capital?
1. Buergbrennen Stroosen – starts: Sunday 14th Feb 7pm / meeting point: rue des carrières
2. Buergbrennen Walfer- starts: Sunday 14th Feb 7pm / meeting point: centre Prince Herni
​
Buergbrennen - setting alight huge stakes to burn 'winter'
Location
​
Firefighters

,

Luxembourg City

,

Strassen

,

Luxembourg
Starting on
Ending on