Strogoff
Italian Food at Place de Paris, Luxembourg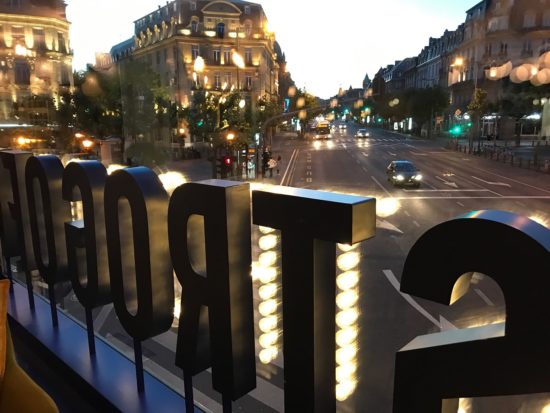 There can be on doubt that over the last year or so, the Place the Paris has become substantially more attractive and certainly Strogoff has contributed to this, too.
Strogoff struck us as a vibrant, fun place whose original mix of organic and urban elements made us reminisce of those hip London bars and restaurants in Shoreditch or Soho. We loved it and and hope that other bars and restaurants will follow suit -shortly. The large panorama windows with the backdrop of the busy avenue de la liberté and its ever busy cars and pedestrians make Strogoff a top place for a cool event or a private party with the right crowd. Looking onto the square it is perfect to get that Parisian vibe and feel, with its belle époque architecture and the grand buildings around it.
The food menu centres around contemporay Italian food. The pizzas that we tried, for once, were good but Strogoffs strong point is its atmosphere and vibe rather than its food only. We also enjoyed the attentive service and sipping delicious cocktails under the industrial old-school lights.
Our verdict: You have to check it out. Our suggestion is to eat at Strogoff and straight after head over for a cocktail or two at Paname's to get ready for the action.
For more details, visit Strogoff's