Night Marathon in the Grand Duchy
JOIN the fun this upcoming Saturday evening (30.05.2015) or just chill out with a drink watching other people break a sweat.  – This is one of the top events in town !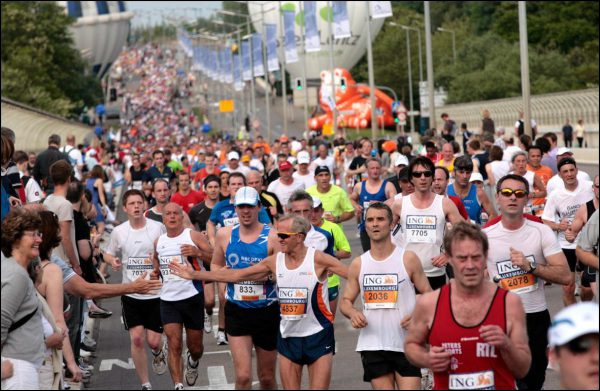 Each year the ING night marathon Luxembourg attracts large, expectant crowds that line the streets to see thousands of runners compete in this energetic spectacle. Along the race track countless music groups are performing and for instance the Glacis crossing welcomes runner with hot South American beats and samba. The race starts in the early evening and continues into the sunset to finish somewhere around mid evening for most runners (depending on your pace of course).
18 DJs will motivate the runners to keep going, while fire artists entertain the crowds. About 1200 volunteers will help that the event runs smoothly. Along many parts of the spectacular course through the historic old city, the enchanting Petrusse valley and its massive fortications or the ultra modern Kirchberg with its splendid architectural marvels there are food stands and places where you can quench your thirst while watching the exploits of the runners. For the uninitiated, there are three races running simultaneously: the full marathon at 42km, the semi-marathon at 21km and the 'team run' marathon where individual runners complete about 10km each which is very popular with businesses.
For the first time this year, the marathon will feature the so called LEO Light Village, with over 1,000 lanterns and light installations set up along 'Val de la Pétrusse'.
This is one of the most exciting and fun events in town don't miss out!
Our favourite places to watch are:
1) Place Guillaume II (Knueddler)
2) The Glacis crossing with the adjacent park
3) The Grand Rue
4) Val de la Pétrusse (LEO Light Village)
See you there!