Ready, Set, Go! – Duck Race 2016
Get yourself a duck!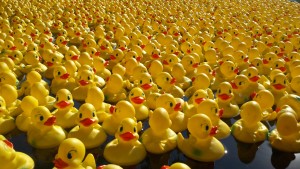 Our Fox has not been able to hunt for many ducklings yet but, on Saturday 23rd April at 3pm, there is a chance to make up for missed opportunities! – 14000 rubber ducks will be let lose in the Petrusse valley for the Duck race, where the proverbial lucky duckling will win a major price, a Suzuki Vitara, to be specific. Individual ducks will do everything in their modest power to win this race for their owners for the capital sum of 5 euro, all dedicated to charity.
Initially a very typical Luxembourgian event, the Duck Race has become a major fundraiser that continues to gain substantially in popularity over the past few years. The ducks will be launched onto their perilous journey past large crowds of expecting spectators, drink stalls and freshly barbecued pork slaps  near the minigolf course in Rue Saint-Quirin in the Pétrusse valley. However, the fun already starts at noon with food and drinks and more entertainment on offer. A number of other prizes, including travel, dinner and shopping vouchers, are also up for grabs. What are you waiting for?! – Get your rubber duck for 5 euros
Event details
When: Starts at 3pm
Where: Petrusse Valley (under the viaduc)
What: Rubber duck race
www.duckrace.lu