Applefest- Steinsel
23/24 Sep, 30rd Sep, 1st Oct, 7/8 October 2017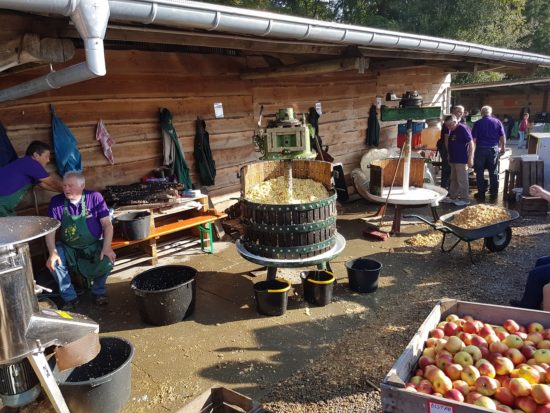 Every now and then you stumble across these typically Luxembourgish events that are somehow super popular but you have never heard about them, despite being in the Duchy for a few years (not evening talking about those that have just arrived in this neck of the world). Either way the Apple Fest in Steinsel is one of these events where you ask yourself – really? why have I not heard of this?
At least the 1-2km long line of cars in the middle of the forest kind of gives it away that there is something happening here. In the end we arrived at a really quaint yet equally charming event called 'Fête aux Pommes' located at the Vergers de Steinsel (Steinsel orchard) and were really pleasantly surprised. (Getting lost in the woods to collect mushrooms has never been this much fun – Steinsel is rumoured to have some of the top spots for mushroom picking).
This is exactly how we felt when we stumbled upon an Asterix&Obelix like event in the middle of the forest of Steinsel about 5km  from Lux city. At the Vergers an abundance of apples and all type of produce related to apples such as freshly pressed apple juice ('Viz' in Lux) were being sold. The event has a particularly good atmosphere as it is set in a really idyllic environment and of course all types of coffee and cake, as well as the typical Luxembourgish Grillwurst and loads of other delicious bites are on offer.
Totally worth your time and a excellent way to discover the Great Outdoors!