Luxembourg Light Nights 2015
Visual art at the 'Holy Ghost' plateau 18/19 December
As a visual highlight to mark the end of Luxembourg's EU Council presidency the facades of the Cité judiciaire will be illuminated with large scale scenography depicting marvellous, colorful images. After an invitation to the public to send in images of real and symbolical bridges, the show is currently being prepared behind the scenes.
While the Luxembourg Light Nights have their first appearance in the Grand Duchy some might have experienced the Festival of Lights® in Berlin, which has already celebrated its 11th anniversary this year. The festial has been exported to numerous other capitals and has had remarkable international success.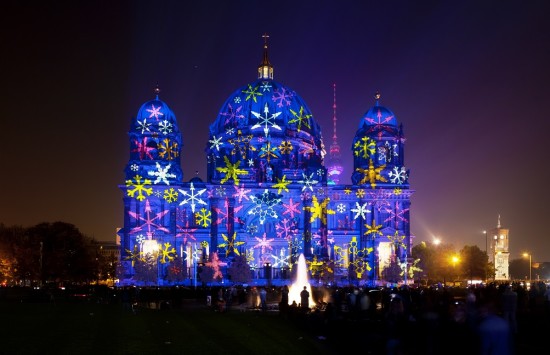 Just a few days prior to Christmas on Friday and Saturday (18/19th December 2015), the Luxembourg City Tourist Office (LCTO) together with the City of Luxembourg are hosting this magical festival. As it is situated within immediate proximity of the Christmas market at the Gëlle Fra (Golden Lady) a visit really lends itself to combining both. The colourful spectacle opens from 18.00 to 23.00 on both nights.